GrandBleu 1988
DIEULOIS

DATABASE

:BEST RATING
small History within the greater HiSTORY--goo.gl::
WIKI
IMDB DATABASE -:- ALLOCINE DATABASE
BEST Le Grand Bleu- Big Blue - Movie-GrandBleu 1988
---Base:VIP for DIEULOIS.com-----
0.3
This hReview brought to you by the hReview Creator.
person






Trailer of GrandBleu 1988




Enzo and Jacques have known each other for a long time.
Their friendship started in their childhood days in the Mediterranean.
They were not real friends in these days, but there
was something they both loved and used to do the whole day long: diving.
One day Jacques' father, who was a diver too, died in
the Mediterranean sea. After that incident Enzo and Jacques lost contact.
After several years, Enzo and Jacques had grown up,
THE BIG BLUE OPENING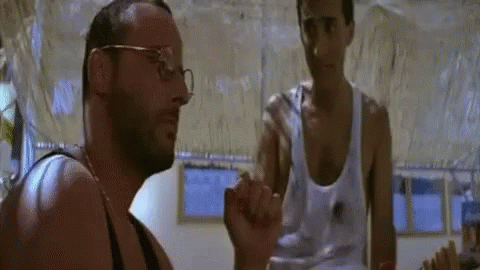 1988-2018:30th Anniversary
Jacques: Why're you always talkin'? Y'know- you think that other people are interested in what you're talkin' about?
I'M not interested, and other people aren't either!
So just STOP talkin', because other people have other
things to say y'know! You understand me?
Stop talkin'! It's bullshit! Enzo: She's gone? Jacques: YES! She's gone!
Johanna: What's it feel like when you dive?
Jacques: It's a feeling of slipping without falling.
The hardest thing is when you're at the bottom.
Johanna: Why?
Jacques: 'Cause you have to find a good reason to come back up
... and I have a hard time finding one.
Roberto: Enzo, really, whatcha going to do with the money?
Enzo: A rosary for mama, a dress for Angelica and you ,
get yourself a suit that fits. But most important.
Roberto: Yes /Enzo: Find me the Frenchman. Find me Jacques Mayol.
Enzo: Roberto mio palmo !